A 19th century French ormolu & marble 8 day striking mantel clock with Cupid riding a horses drawn chariot,C.1860 by Vincenti.
19th century French 8 day Corniche shape striking carriage clock with repeat mechanism,C.1880. With original key & case.17 cm high.
A rare French 8 day brass striking carriage clock with 5 minute & hour repeat,C.1890. With original case & retailed by Hardy Bros.,Sydney.19cm high.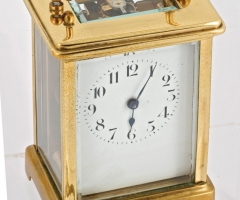 French eight-day carriage clock with enamel dial, c. 1910. 15cm high x 8cm wide x 7cm.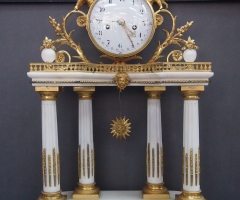 A fine French Directoire period marble & gilt metal mounted 8 day two train bell striking mantel clock with Putti supporting a classical mauve jasper plaque,C.1795.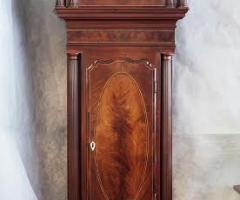 A fine George III mahogany longcase clock with rosewood crossbanding and boxwood stringing having a painted dial with moonphase & calender ,C.1810 by George Monks,Prescot. 260 cm high
A fine French Charles X period bronze 8 day Sienna marble 8 day striking mantel clock,C.1830 by Pons.
A 19th century 8 day striking Vienna Regulator wall clock with enamel dial & half turned columns,C.1890.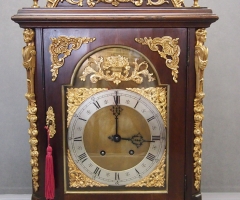 A 19th century German mahogany cased 8 day two tone striking bracket clock with a sliver chapter ring & gilt spandrels,C.1870.